Mary Lyon Foundation Updates
The Mary Lyon Foundation is Calling Our Community to Action! Update on Our Campaign for Student Success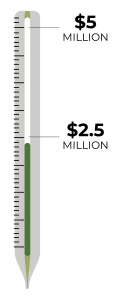 In our last newsletter, we wrote about the highly anticipated launch of our unprecedented $5 million Campaign for Student Success. Our new Campaign is a bold invitation for all of us to invest in the most pressing needs facing our students, families, and educators. Working together, we will provide students and families with every opportunity to succeed! 
The Campaign for Student Success will secure our vision that all students in western Franklin County can learn, succeed, and thrive. Through your generosity, we envision a future where: 
All students will come to school ready to learn, succeed academically, socially, and emotionally, and thrive in the wider world.

 

All families in western Franklin County have access to services needed to foster a healthy and stable learning environment at home and school.

 

All educators in our region have the tools and resources they need to give our students the very best education possible.

 
We're delighted to share that we have raised 46% of our $5 million goal with $2.3 million in funds already secured! Through your continued generosity, these resources will be used to confront the issues of hunger, mental and physical health, and poverty that negatively affect the ability to learn and thrive for the students and families of our rural community. With your help, we can guarantee the future of our Foundation; assure funding for our integral programs that provide students with before and after school care, activities, health, and wellness services, and more. Together, we can assist even more local students and families and alleviate critical challenges such as hunger and poverty.  
Ready to help us reach our goal and provide students and families with the resources needed to learn, succeed, and thrive? Make your gift online at www.marylyonfoundation.org: We accept MasterCard, Visa, and PayPal.  Are you interested in talking with us about a multi-year pledge?  Contact the Executive Director at [email protected] or call us at (413) 625-2555. 
Send your check made payable to the Mary Lyon Foundation and mail to:
Mary Lyon Foundation
PO Box 184
Shelburne Falls, MA 01370